For over 60 years, Little Lakes Machine & Tool (LLMT) has supported a wealth of industries in Canada and further afield, including the automotive, alternative energy, nuclear, aerospace, and defense industries. We are a high-precision, low-volume manufacturing company that provides tight tolerance specialty tooling, parts, fixtures, and gauges. Always striving to expand our expertise and capabilities, LLMT is constantly growing, be it with new equipment or additions to our highly skilled workforce. We specialize in the following processes.
Precision grinding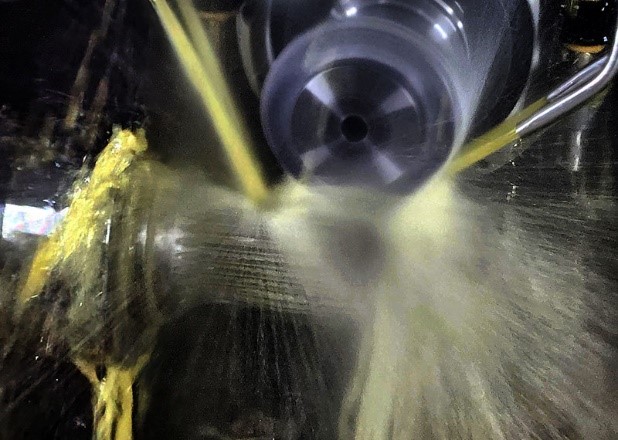 A manufacturing process common to many industries, precision grinding is used to create complex shapes/forms and finish metal parts with very tight tolerances. The process can accommodate each client's specific needs to tightly control ID and OD requirements, hard to maintain flatness and parallelism specs, as well as complex tooth forms, such as for helical gears (among other things). Precision grinding guarantees accuracy, which is vital for industries that require tight tolerances and high quality, such as the nuclear and aerospace industries. LLMT offers multiple grinding capabilities and machines, including a Haas Multigrind from Germany, Studer, DCM, and ABA surface grinders.
Hard milling
Hard milling is a specialized machining process that allows our shop to mill steel parts with a Rockwell hardness of 60Rc+ (Rc — a measurement of an object's resistance to deformation). This process suits highly accurate face details on tools where grinding is not suitable, complex forms and intricate geometry or where sink EDM would be too costly or time-consuming. LLMT offers multiple milling capabilities with machines from Makino, Okuma, and a direct drive, 5-axis Roders mill.
Hard turning
In conjunction with milling, hard turning is used for cylindrical objects and takes standard "soft" turning to the next level. Often more efficient than grinding when dealing with multiple ID and OD requirements (steps or contours/tapers), hard turning can be cost effective and efficient when used with the right projects or feature requirements.
EDM (wire and sink)
Electrical discharge machines use a series of electrostatic discharges in conjunction with a wire or shaped electrode (wire and sink, respectively) to cut, remove or shape materials. We use EDMs for:
Cutting hard materials (where conventional machining is not an option)
Cutting sharp internal corners (through or blind)
Producing geometries that require fine precision
Four-axis and taper cutting
Making complex 2D-shaped parts (wire) or 3D-shaped parts (sink) where milling would be too labour intensive
We use multiple EDM machines with equipment from Makino and FANUC. In all the industries we serve we can potentially minimize manufacturing costs and reduce risk while making high-quality parts for our customers.
Quality control
 Little Lakes' renowned quality of work is second to none. We are certified ISO 9001:2015 and AS9100D and have also been audited by our current nuclear customers, and/or their third-party auditors, to N299.4 and, in certain cases, to N285 for Class 1 work. Our Controlled Goods certification also allows us to work on aerospace or defense projects that fall into the classified category. Our multiple Zeiss CMMs, two Alicona variable focal length, non-contact optical measurement systems, along with a variety of other programmable and manual measurement equipment, allow us to deliver the measurement results you require.
Our qualified processes and expert team can produce precise and expertly finished parts or specialty tools for any application. Following in-depth quality assurance protocols, we guarantee precision parts and tools produced on-time and to your exacting specifications.
Contact us today at:
John D. Window
(519) 271-2835 Ext 240
johndw@llmt.com