COVID-19 Update
Following the Ontario Governments' announcement on March 23, we are pleased to confirm that our business is considered an essential workplace and has been deemed exempt from mandated business closures.
We have reached out to both the Ontario and the Canadian Governments and offered our services for the fight against the Covid-19 pandemic. If you think we may be able to help your company in this effort, please do not hesitate to reach out to us.
We will continue to serve our customers as always, based on developing circumstances.

Little Lakes' skilled craftsmen and engineers use advanced CNC machinery and know-how to deliver precision tooling for demanding applications.
ISO9001:2015 Certified
: Facilities & Equipment :
Our Capabilities
Hard Milling  :  HQSF Sink EDM  :  Wire EDM  :  Precision Turning  :  Multi-Axis Grinding  :  CNC CMM 
Automotive: Powder Metal Tooling
Near perfect vertical surfaces were required on a tool feature for a Little Lakes' automotive parts customer. We designed the toolpath so that hand polishing was not required, and then used the identical toolpath on all other similar features on the tool. It takes the right tools, and the knowledge of how to use them, to make the perfect tooling surface.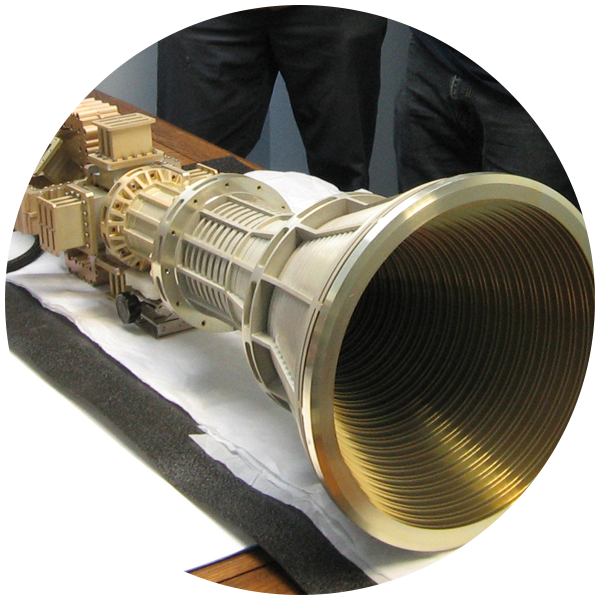 Aerospace: Microwave Communication Components
A customer asked us to manufacture a very demanding component with 0.1 mm wall thickness and internal features requiring a smooth surface. The initial destructive analysis identified tool chatter marks with in the deep, hidden recesses of the part that would not be acceptable. Through careful frequency tuning of the cutting tool by relocating certain setscrews, we removed the internal harmonics and created a chatter-free toolpath. Creative problem solving combined with deep experience and a dedication to customer satisfaction is one of Little Lakes hallmarks.
Alternative Energy: Powder Metal Tool
Our customer requires a highly accurate surface across the entire tool – time and time again.  The surface features are first milled into copper and then carefully EDM burnt into the tool's active surface. Our dedicated 3D optical micro CMM provides the reassurance and proof that what we deliver on our promises.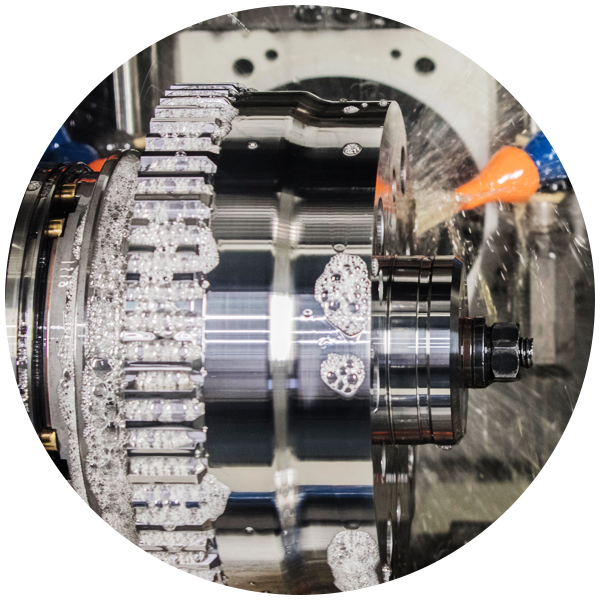 Automotive: Flow Forming Tooling
Sometimes bigger is better, especially when milling features with tight radii into hardened materials like D2 or DC53. On our big Makino horizontal mill, the spindle and the parts holding are super stable, eliminating any vibration that could mar the quality of the final tool. Our customer's flow forming tool is the product of this perfect alignment of equipment and know-how.
"Little Lakes, best partner ever!"
– Design Engineer, Powder Metal Manufacturer

Sink EDM: Electrode burning a punch
Robotic Loading/Unloading of Makino VMC
Hard-milling automotive tool
Hard-milling on a Haas Schleifmaschine (Grinder)
Grinding on Haas Schleifmachine
"Promation Nuclear is very pleased with both Little Lakes' Customer Service and Quality. We value their teams manufacturing expertise and knowledge and their willingness to work with us on challenging components."
– Terence Brouwer
Here we grow again: after we brought in the Okuma LB 4000 with its extended 1500mm bed last November, we continue to increase our capacities with a brand new, super accurate Makino V56i machining centre. This mill is thermally stable with core-cooled ballscrews,...
read more
It took a little pushing and shoving – a shout-out to the team at Integrated Mechanical Services Inc. of Stratford, ON for a great job! – but at the end,  a brand new Okuma LB4000 lathe with its 1500 mm extended bed fit perfectly into its new home at Little Lakes...
read more